When I was about five years old I fell into a swimming pool in late November. I lived in New England, and at that time of year the leaves had fallen off the trees and the ground was frozen. Winter was just around the corner, but it was not yet bitterly cold. I had my snowsuit and boots on, and was curious to know what a swimming pool looked like when it was all wrapped up for the winter. Would it have water in it? Would it be frozen like a pond? Could I still see the bottom at this time of year? And then I was in the water.
Fortunately, I knew how to swim, and there were grown-ups around to pull me out. However, once I was standing on terra firma again, I found myself in my bulky snowsuit that was now full of water. Not only was it cold and wet, but it was also incredibly heavy.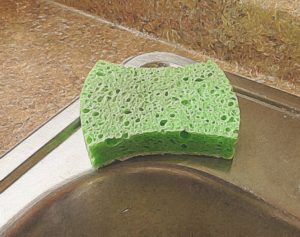 That wet snowsuit is the perfect analogy for dampness in Chinese medicine. Considered to be a pathogen (something that can make you sick), dampness occurs when your body is unable to metabolize water effectively. The result of poor fluid metabolism is that you accumulate water like a sponge–or my wet snowsuit. This unprocessed water sits around and creates problems for your overall health.
Conditions that arise from dampness include yeast and fungal infections of any kind–nasties that thrive in warm, moist areas of your body. Athletes foot, blistering rashes, shingles, water retention, edema, loose stools, and diarrhea are all considered to be the product of too much moisture in your body. Furthermore, that adipose tissue that we lovingly call fat is also considered to be an abundance of dampness, because it, too, is loaded with water.
Like my snowsuit, dampness in your body feels heavy because water is heavy. Furthermore, it can take what feels like forever to feel completely dry. And more bad news–dampness that hangs around in your body for a long time can congeal and turn to phlegm, creating a domino effect that can set off a whole new group of problems.
While some people are constitutionally damp, the most common source of dampness in your body comes from your digestion or the foods you eat. It is the task of your digestion to take foods in and convert them into energy and nutrients to keep you going. However, if that process gets sluggish or ineffective, your body tends to get boggy and retain water in the form of damp "puddles". Foods that are prone to cause dampness are rich and fatty. Saturated fats, a lot of dairy, and sugar or sweeteners of any kind have the ability to engender dampness when eaten too frequently or in large amounts.
The fix for dampness? Remember that it likes to hang around and can be hard to resolve, so a multi-faceted approach is most effective. Acupuncture, dietary changes, and Chinese herbs can be helpful in resolving dampness and its evil twin, phlegm. Some foods that may be helpful include radishes, turnips, celery, garlic, onions, scallions, beans (like kidney or aduki), and green or jasmine tea–for a start.
My five-year-old self was incredibly lucky. There were adults around, I was near my house, got the snowsuit off, and was warm and dry pretty quickly. While not as quick as shedding wet clothes, dampness in your body can also be resolved–but it takes a little effort and some help from Chinese medicine.