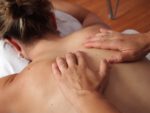 In my upper back, on the left side, half-way between my neck and shoulder, I have a muscle knot that feels like a small potato. It's hard, thick, and unmistakable. And it causes me pain. When it acts up, it gets tight and achy and can be Ground Zero for migraines that can take me down for a day or two. I know—a migraine that starts in my shoulder? WTF?
So what exactly is a muscle knot and why can they be so miserable?
. . . → Read More: Got Muscle Knots?