We Minnesotans are ready for spring. Here in the North Country, we know all about winter. We're experts at hunkering down and staying warm. We snowshoe, ski, and drive on our frozen lakes. And we know that dressing for the cold involves many layers and miracle fibers that wick and warm at the same time.
So when spring rolls around, we Northerners are more than excited to jettison some layers and ditch the fleece. As soon as the thermometer gets above about 35 degrees, you will see runners logging in their laps around the city lakes in shorts and t-shirts. Never mind that the wind chill is about 20 and they're running around people still out on the lake ice fishing.
When it comes to spring in the North Country, the bottom line is that we want to go outside; we want to move our bodies; and we want to soak up the extra daylight. Why? Well, mostly because we humans are animals, and our animal selves are supposed to get active, stake out some territory, find a mate, and expend some energy like winter never happened.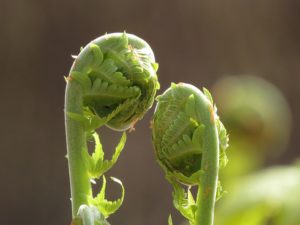 In Chinese medicine, spring is associated with the element of wood. And while you may think of wood as the hard logs you throw on the fire or the stuff your desk is made out of, wood is also the tiny, tender shoots of plants that come up in the spring. The action of wood is expansive, and moves upward and outward. Healthy wood is hard and strong, but it is also flexible; it bends, but doesn't break.
With each season in Chinese medicine, there are seasonal tasks that are meant to keep you healthy. In the spring, you are supposed to expend some of that pent-up winter energy. You are meant to go outside and play and run around lakes in shorts and t-shirts. In keeping in touch with the season, your diet should be a little lighter than the heavier and warming winter fare, and should include lots of tender baby lettuce, sprouts, and other early plants.
But the question remains; is that extra boost of energy in the spring really a thing? Is it spring fever? Scientists say yes. They say that we humans go through both psychological and physical changes in the spring. We tend to have more trouble concentrating in the spring, and generally get less sleep. In addition, when the warmer weather arrives, we also crave lighter foods than what we were eating during the winter. Furthermore, some studies have shown that our sense of smell becomes sharper in the spring—possibly because of the increase in humidity, but perhaps related to the ritual of staking out territory and finding a suitable mate.
So yes, spring fever is real, and if you want to support your health by embracing spring, here are a few ideas:
-Move your body. If you're like me, you may have been a little…um, sluggish during the winter months. Now is the time to put on your walking or running shoes and get some steps in. It's what your body naturally wants to do.
-Go outdoors. The longer days are beckoning you to spend some time in the outdoors. Get in touch with the divine by observing the world coming alive. In Minnesota, that means going from frozen to green in the matter of a few weeks.
-Eat locally when possible. It may still be a few weeks until the farmers' markets are open. Until then, go for baby greens, and darkly colored fruits and vegetables at the grocery store or co-op.
-Make plans for a garden. Whether it's pots of herbs and tiny tomatoes on your windowsill or deck, or a full-blown garden plot, now is the time to plan for your garden, start some plants from seeds, turn over the earth, and wait for the last freeze date to pass to start planting outdoors.
Whether you live in a cold climate, desert, or along the coast, spring is happening, and spring fever is real, and if you pay attention, you can feel it. There is nothing more awesome than watching Mother Nature come alive and the world expand, right before your very eyes.