I love reptiles and always have. As a kid, my idea of bliss was waiting quietly pond-side for frogs to emerge, overturning rocks in the woods in search of salamanders, and best of all—finding turtles. To my eight year old self, the greatest gift of nature was to see a box turtle crawl through my yard, plodding quietly on its way to who knows where.
Was I a weird kid? Maybe—I grew up in a large family, a little bit lost and needy among the chaos. The reality is that weird or not, I found my excursions to the neighborhood brook, the woods down the street, or the nearby pond extremely relaxing. Being out in the natural world was my Zen.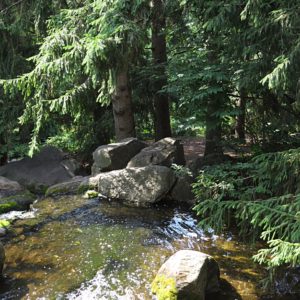 There's a host of research that supports the idea that nature is not only relaxing, but also good for your health. A number of studies have reported that walking in the woods can lower blood pressure, decrease stress, and increase immunity. Other studies describe similar health benefits of watching aquariums.
It's no surprise to me that tapping into the natural world is good for your health. Much of what we know about Chinese medicine is built on the repeating patterns in nature. For example, much of our body's balance is explained by Yin and Yang theory—the contrast between warm active Yang and cool nourishing Yin. When we get sick or have symptoms, it's described as bad weather; you can have heat, cold, dryness, wind, dampness, and summerheat. Even in acupuncture, the pathways flow like water—in some places bubbling up like a spring, and in others rushing and full like a river.
You can use these recurring patterns from nature to enhance your health. Here are a few examples:
-The balance between work and rest. Animals work hard foraging for food, mating, and migrating—and then they rest. They don't keep at it 24/7 year round. Birds get a little crazy in the spring, protective of their broods in the summer, and in the late summer they rest as they prepare to migrate or for winter. Plants go dormant, even in warmer climates. We humans should do the same, but sometimes in the frenzy of work, family, caretaking, and doing it all, we forget to rest. You need to take a break—get good sleep, take a nap, go on vacation, or take a sabbatical.
-Pay attention to seasonal cycles to maximize your energy. Like the birds that are full of color and energized in the spring, we humans are meant to get outside and celebrate the end of winter. Summer is the season of full expansion, with long days and lots of activity. In the fall, things slow down a bit, animals turn their attention to foraging or migrating for the coming winter, and we humans turn our attention to the harvesting of foods to get us through the coming winter. In the cold of the winter, animals either hibernate or hunker down to conserve energy. We humans would do best also to hunker down, stay warm, and eat nourishing foods. These seasonal cycles are also meant to help us balance work and rest and enhance our energy.
-Eat what's local now. Animals thrive on the foods that are found in their environment, and this is true for humans, too. People living in the tropics do better with moist and cooling fruits and local vegetables, just as we Minnesotans tend to do better with the produce that's grown here. The fruits and vegetables of summer transition into warmer, heartier squash and root vegetables later in the fall as we bulk up on energy for the coming winter. Furthermore, when you eat locally, you are eating stuff that's just been picked, not what's been picked early and transported across the country to your grocery store. What's grown where you live tends to be what's best for you.
-Look to herbs for healing. In her book, Biomimicry, Jenine Benyus describes the behavior of some primates who will walk miles to find a specific herb to get rid of intestinal parasites. Herbs in their entirety have been used to heal humans for thousands of years, and for good reason; they're effective and safe. Many modern medicines are made from herbs too, but with a difference. The active ingredient is distilled down into a very potent drug—effective, but with a whole host of side effects. Given the choice, I'll go the herbal route; it's like tapping into nature's medicine chest.
Whether you're walking in the woods, tending your vegetable garden, or just aquarium-gazing, you will find that nature offers up healing in a variety of ways. When you pay attention to the patterns and cycles of the natural world, you can see that in her wisdom Mother Nature has your back.