Every July, I look forward to watching the TV coverage of the Tour de France.  As I watch the riders snake their way through the French countryside, climb through the Alps and the Pyrenees, and even crash at unimaginable speeds, I vow one day to watch the Tour in person.  I am in awe of the athletes who can get on their bikes day after day to ride at a level only attainable by the best in the world.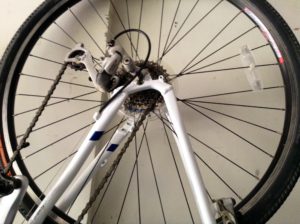 It turns out that this year's Tour de France winner Vincenzo Nibali has a secret that helped put him on the winner's podium, and it involves needles—but in a good way.  According to Wall Street Journal Sports, Nibali's Astana cycling team has its own acupuncturist, and Nibali reported using his services almost every day.
The benefits of acupuncture are many, and for world-class athletes, it can help with recovery, pain relief, and even help them keep their head in the game.  Research on acupuncture has documented that its use can block the transmission of pain signals going to the brain.  This is a crucial benefit in such a grueling race as the Tour, as cyclists have to be ready and able to perform at the top of their sport daily for this three week long event.
Another benefit of acupuncture is that it works by altering brain chemistry so that the circulation of pain relieving chemicals and calming, feel-good endorphins is increased. In addition, while acupuncture can't mend a broken bone or a cure a bad case of road rash, it can help with the recovery process after each stage to help athletes stay at the top of both their physical and psychological game.
Professional athletes in a variety of sports are finding that acupuncture is a great drug-free way to decrease pain, speed recovery, and keep calm during competition.  In a sport that has a reputation for abuse of performance enhancing drugs, the use of acupuncture is a great, natural solution at the Tour de France.