I have tried to learn Chinese for years. As an acupuncturist, the little bit of Chinese I know comes in the form of medical terms, acupuncture points, herbal formulas, and really nasty symptoms. I have tried a number of times to learn conversational Chinese from books, but every attempt has bombed.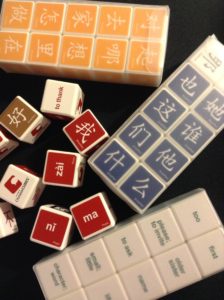 There's something new, however, for those of us who struggle with things Chinese, and it's called Chinese Cubes. (Full disclosure: Chinese Cubes sent me their product to try, but I stand by everything I say.) Chinese Cubes is a language learning system that uses your computer, a camera (they supply) and a series of learning cubes. It's seriously fun, and it seems to be working, because for the first time I'm learning (and remembering!) words and phrases.
Every word cube contains the traditional Chinese character, the simplified character, the Pin Yin (how you pronounce the word using our alphabet), the translation, and a code for the cube for your camera to pick up. You simply lay a cube in front of the camera, and the computer program tells you the translation, how it's used, an audio of how to pronounce, and an animation of how to write the character.
The beauty of Chinese Cubes is that you place just one cube in front of the camera, or you can combine cubes to create phrases, sentences, and questions. You can advance through pre-set learning levels or work with the cubes free style to create your own phrases. It works because it feels like a game, but also because it engages several of your senses in the learning process. And it's fun–did I mention that?
Okay, the nitty gritty: I had a hard time loading the program on my computer. However, the Chinese Cube tech people were very responsive, had me download some information from my computer about the problem, and then they made me a new program disk. That's right, they sent me a disk they created specifically for my computer! Once loaded, the set up and operating instruction were very simple and easy to follow. The quality of the camera that came with the starter pack was good; there was a wide range of space where you could actually place the cubes and have the system work.
I have now spent a fair amount of time literally playing with Chinese Cubes, and for the first time, I am actually learning how to speak some Chinese beyond how to say Liver Qi stagnation or Yin Deficiency. Writing the characters is a bit of a challenge, and I will need to go back and review how to write the ones I have learned, but I'm actually recognizing the characters, which has always been difficult for me.
The bottom line: I love playing with this system; I'm finally learning to speak Chinese, and I highly recommend Chinese Cubes to anyone who really wants a fun way to learn a challenging language. Check them out here.